Welcome…
To celebrate the good men of our community, we would like to invite your family and you to our FREE 18th Annual Father's Day Fiesta and Hombre Noble Awards.
18th Annual Father's Day Fiesta
10 a.m. to 1 p.m. | Saturday | June 16
SAHA Park, 818 S. Flores St., San Antonio, TX 78204
Resource fair, free lunch bag (until 12:30 p.m.), children's games,free health screens, entertainment, prizes and more.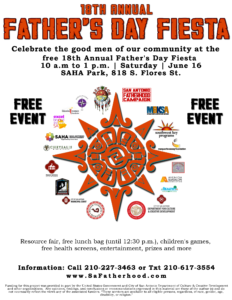 For more information…
2018 Vendor Registration for Annual Father's Day Fiesta

The San Antonio Housing Authority and San Antonio Fatherhood Campaign will like to invite our partners to be part of this special event participating in our Resource Fair. We are focusing the Resource Fair on Information, Resident Opportunities, Jobs, Education/Job training and Health Services. For our partners on the medical/health field we are asking if possible to have interactive informational activities or demonstrations. Our community can benefit from basic health screenings – like blood pressure assessment or any other health screening that can be done considering the setting of the activity.
For all of our partners we want to ask you to be creative for our residents. We love the mascots, the giveaways, the interactive information ideas, demonstrations, etc. Let's make this Resource Fair a Fiesta of Information.We are asking our partners to donate a Door Prize for our raffles. The suggested value is a minimum of $20.00.
I will be sending a confirmation email to all our partners that register on the link below.

Please note that you are strongly encouraged to bring a table cover and canopy. Canopies will not be provided.

Phone Registration:

Fatherhood Campaign: Call / Text 210-617-3554, please indicate that you would like to be a vendor for the Father's Day Fiesta

2018 Father's Day Fiesta Flyer
2018 Hombre Noble Award Nomination:

Thank you… At this time we are accepting new 2018 nominations.