San Antonio Fatherhood Campaign grows from vision of concerned fathers In San Antonio, an idea that began with the vision of a handful of concerned Latino/Chicano and Native-American fathers has quickly developed into an organized community campaign to promote responsible fatherhood to fathers of all ages. Making Connections-San Antonio and the AECF Fatherhood initiative and community father's helped put together the efforts to a larger segment of the community.
The San Antonio Fatherhood Campaign spun off from work being done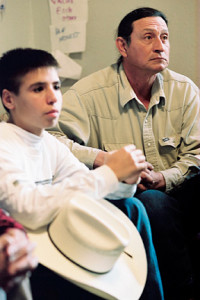 by several groups who were involved with programs directed to helping young men and teens. Two already established organizations, the American Indians in Texas-Spanish Colonial Missions (AIT-SCM) and the San Antonio National Compadres Network (SANCN), provided early support.
Their work in SANCN's organizational efforts to mentor young men caused the founders to question the role of fathers in the broader community. Seeing that fathers are often overlooked and undervalued, they questioned what could be done to improve the roles men play as fathers.
A group of fathers who subsequently developed the Fatherhood Campaign were eager to celebrate and share their personal devotion to family, culture and community. They took the lead in developing the Fatherhood Campaign.
Initially, the founders of the Fatherhood Campaign were just friends and colleagues meeting together in a Circulo de Hombres (Circle of Men) – sharing ideas, wisdom, philosophy and the value of their individual personal experiences.
Since many members of the group are Native American, as well as Latino/Chicano, they borrowed heavily from tribal customs, occasionally incorporating such things as the Circulo (Talking Circle) of elders.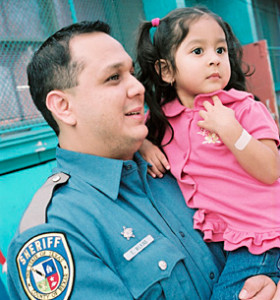 They also incorporated ideas from trainings given by Jerry Tello. Tello is an internationally recognized writer, trainer and expert on Latino fathers, family strengthening, and responsibility/fatherhood issues. Tello's work is based on the ancient Codice Florentino (Florentine Codex) of Mexican indigenous people. The Codice Florentino, a spiritual code rich in ancient teachings about male youth development, emphasizes becoming a balanced person. The "Rites of Passage" curriculum designed by Tello utilizes storytelling to help youth in their self-development. Recognition of the work of the San Antonio fathers spread by word of mouth. Others joined the group. awhile, the group began to ask themselves, "If we are doing all this on a part-time basis with no fundinghow much more could we do as a formal, funded initiative?" They set out to seek some funding to expand their efforts.
The work got a boost in 2002, when one of the core organizations, AIT-SCM, secured a grant from the Texas Department of Health (TDH) to expand the fatherhood and male involvement efforts. AIT-SCM had already offered office space in its own headquarters building, which is located in San Antonio's Side (in the heart of the Making Connections area). With the TDH grant, the group could expand it's work to other fathers in the community.
Several organizations joined to form the network nucleus or "Core Group" of the San Antonio Fatherhood Campaign. The "Core Group" now includes: American Indians of Texas-Spanish ColonialMissions (AIT-SCM), Southwest Key Program, Inc., Juvenile Outreach and Vocational/Educational Network (JOVEN), San Antonio Children's Shelter, San Antonio National Compadres Network (SANCN), M.A.T.C.H./P.A.T.C.H, the PEACE Initiative and Project Worth, as well as Making Connections-San Antonio. Although each organization has a slightly different objective, each dedicates a major portion of its work to strengthening families, fostering male responsibility, supporting fatherhood, and raising awareness of Latino and Native American cultures.